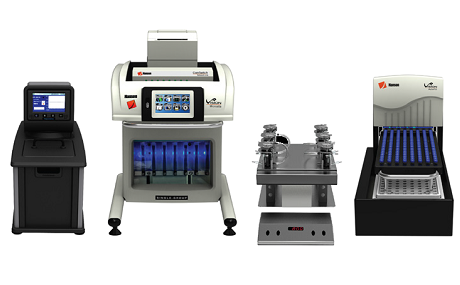 The Vision Microette systems using a vertical diffusion cell (VDC), produced by the Hanson Research Corp., are in full compliance with the USP chapter about the analysis of the <1724> various soft drug forms.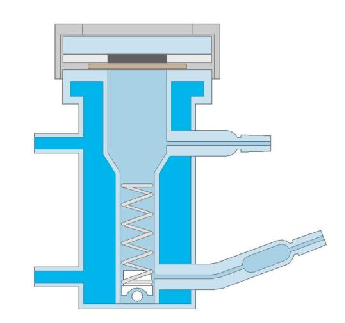 Not only do the membrane diffusion tests have an important role in the development and quality control of creams, gels and other transdermal and various soft drug forms but also of eye drops, pesticides and cosmetics. With the diffusion systems using a water-jacketed vertical diffusion cell (VDC) – a modified Franz cell – all these tests can be achieved reproducibly. The homogeneity of the medium in the cells is provided by a magnetic stirrer with Helix mixers placed in the cells. Due to the modular construction of the system, the 6-place workstation can be extended into a fully automatic system, where the control and programming of the different modules is performed by the sampling unit called Vision Microette.
Manual workstation
The workstation equipped with a 6-place stirring unit and vertical diffusion cells of 4, 7 or 12 ml, possesses a thermostattable medium tank and manual sampling syringes necessary for manual sampling. The temperature of the medium and medium tank within the cells can be maintained at the desired temperature with any suitably chosen water circulator thermostat.
Automated workstation
The Vision Microette 6-place workstation in its full configuration beside the magnetic stirrer, the vertical diffusion cells and the thermostattable medium tank, it also contains the Vision Microette programmable syringe pump sampler, the AutoFill sample collector, a paper roll printer for documentation and a circulating water thermostat controlled from the sampler. The Vision Microette syringe pump sampler has an internal memory suitable for storing 100 methods and its software is 21 CFR Part 11 compliant. The protocol includes the sampling times and volumes, the stirring speed and the thermostat temperature, as well. One sampler with well-chosen sampling times can be used for sampling from the cells placed on even 3 magnetic stirrer units and for transmitting into the HPLC vessels and test tubes of the AutoFill sampler.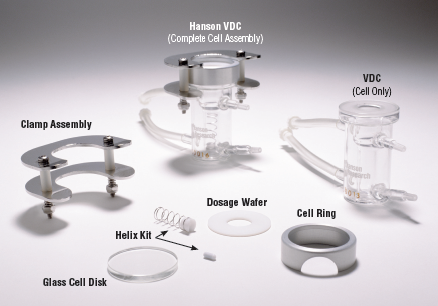 The vertical diffusion cells (modified Franz-cells) used for manual and automatic systems:
vertical diffusion cell of 4, 7 and 12 ml made from clear glass with "Helix" stirrer.
vertical diffusion cell of 4, 7 and 12 ml made from ambered glass, for the testing of photosensitive materials, with "Helix" stirrer
threaded cell tops for materials of low viscosity and for liquids
For the tests, any kind of accurately chosen membrane can be used, may it be of synthetic or real skin, beside the widely used Nylon and Cellulose acetate membrane.