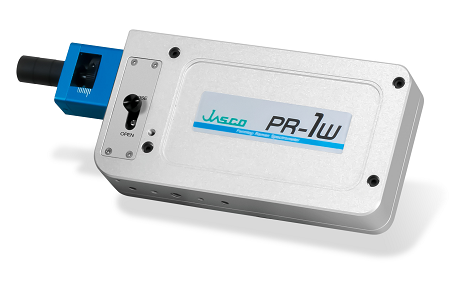 After manufacturing the large, high-resolution Raman microscopes, in 2023 JASCO Corporation created the PR-1w compact Raman spectrometer, suitable for measuring macroscopic samples. This instrument is suitable for measurements within the wavenumber range of 200 – 3000 cm-1. The PR-1w is capable of non-destructive measurements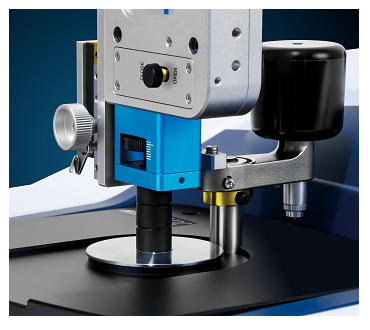 of solids, films, powders and liquids directly or through transparent packaging material. The palm-sized, compact PR-1w spectrometer communicates with the computer via a USB cable, which provides control and data collection, and a USB adapter provides power supply. In order to perform stable and comfortable measurements, the instrument can be fixed on various open or closed support stands. The measurement of samples of different sizes or in transparent packaging can be carried out with lenses with adjustable focus position.
The PR-1w can be particularly easily used with the JASCO FTIR + ATR spectrometers, as the instrument can be installed on the clamping arm of the ATR unit. In this way, the infrared spectrum of the sample placed on the ATR crystal can be recorded by placing the clamping head on it, and then the Raman spectrometer can be placed over the sample by turning the arm. After starting the appropriate measurement program, the Raman spectrum can be collected from the position of the sample as the infrared spectrum is.
The control of the instrument, data collection and evaluation is provided with the JASCO Spectra Manager 2.5 software package, which contains the necessary modules for measurement, wave number calibration, and real-time and subsequent spectrum analysis. With the Spectra Manager 2.5 Advanced Spectra Search module, unknown samples can be classified into compound groups by functional group analysis and they can be identified from spectrum libraries created from spectra of purchased or own samples.
Specifications:
measuring range: 3000 – 200 cm-1
illumination laser: 785 nm
laser power: 50 mW (software adjustable 5, 25, 50 mW)
laser safety class: Laser Class 3B
detector: CMOS sensor (2048 ch)
resolution: 3 cm-1/pixel
adjustable focus position with standard lens: -1 – 6 mm
dimensions (WxDxH): 85 × 31 × 222 mm, 0.8 kg.