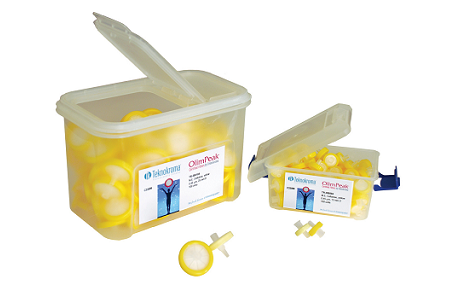 The membrane filters produced by the Spanish Teknokroma company feature good quality, high purity and excellent batch-to-batch reproducibility. In the range of products offered by the company there can also be found syringe filters as well as membrane filters used in the analytical practice and they are recommended for sample and chromatographic eluent filtration, as well.
Syringe filters
In the polypropylene house of the syringe filters a membrane filter with 13 or 25 mm is fitted. For an easy identification, the type of the membrane is indicated by the color of the plastic filter body. Conventional glass (with luer plug) or plastic syringes can be fitted to the filters. The Teknokroma syringe filters are available in resealable plastic boxes, 100 pieces/box.
Low-volume syringe filters
For the filtration of the sample volumes of less than 1 ml, the use of low-volume syringe filters are recommended. In the polypropylene house a 4 mm (Nylon, PTFE, PVDF) membrane filter is fitted. A conventional glass (with luer plug) or plastic syringe can be fitted to the filter.
Membrane types and their characteristics:
Nylon 66
hydrophilic membrane
filtration rate: fast
strong protein binding capacity
solvent compatibility: "weak" organic solvents (alcohols, acetonitrile), aqueous solutions, base solutions, THF
not recommended for: strong acids, halogenated hydrocarbons
use: for general filtration and filtration of HPLC and dissolution samples
PTFE (poly(tetrafluoroethylene))
hydrophobic membrane
filtration rate: medium
low dissolution, best solvent resistance
solvent compatibility: "strong" organic solvents, strong acids, strong alkalis, chlorinated hydrocarbons
not recommended for: aqueous solutions
use: for organic solvents, general filtration and filtration of HPLC samples
M. E. Cellulose (mixed cellulose ester, nitrate and acetate)

hydrophilic membrane
filtration rate: medium
solvent compatibility: aqueous solutions, "weak" base solutions, hydrocarbons
not recommended for: "strong" organic solvents, strong acids, strong bases
used for the filtration of aqueous solutions, biological samples and HPLC and dissolution samples
PVDF (poly(vinylidene fluoride))
hydrophilic membrane
filtration rate: medium
low dissolution
weak protein binding capacity
solvent compatibility: aqueous and organic solutions, weak base solutions, hydrocarbons, halogenated hydrocarbons
not recommended for: strong acids, strong bases, ketones, ethers
used for the filtration of aqueous solutions, proteins, peptides, biological samples, HPLC and dissolution samples
Code
Pore size[μm]
Diameter[mm]
Color
Membrane: Nylon 66
TR-200100
0.45
25
green
TR-200101
0.20
25
light green
TR-200500
0.45
13
green
TR-200501
0.20
13
light green
Membrane: PTFE
TR-200102
0.45
25
blue
TR-200103
0.20
25
light blue
TR-200502
0.45
13
blue
TR-200503
0.20
13
light blue
Membrane: M. E. Cellulose
TR-200104
0.45
25
yellow
TR-200105
0.20
25
light yellow
TR-200504
0.45
13
yellow
TR-200505
0.20
13
light yellow
Membrane: PVDF
TR-200106
0.45
25
red
TR-200107
0.20
25
light red
TR-200506
0.45
13
red
TR-200507
0.20
13
light red