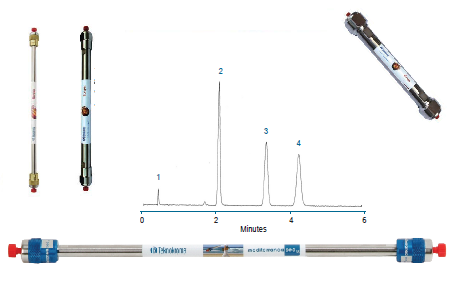 From the range of high quality chromatography columns produced by the Spanish Teknokroma company, the mediterranea™ sea columns suitable for reverse phase separation stand out. The high purity silica gel surface is covered with C4, C8 or C18 chains, can be used in a wide range of pH and it has an optimized pore distribution; the silanol groups that may adversely affect the efficiency of the separation have been inactivated (Multifunctional Endcapping Deactivation (MED)). All these features contribute to the peaks of perfect symmetry and the retention times will show excellent reproducibility when using the long-life mediterranea™ sea columns.
For the separation of protein and peptide molecules, Teknokroma recommends the Europa HPLC columns, which share the beneficial properties of the mediterranea™ sea, as well as, have very well-defined pore size due to their special silica gel particles: the120Å is recommended for the peptide molecules, the 300Å is recommended for the protein molecules. The Europa columns as C4, C8 and C18 columns are also available in analytical, semi-preparative and preparative sizes.
Brisa LC2 is the latest reverse-phase C18 column family of Teknokroma and it prouds itself with the best value for money. The pore size of the ultrapure and metal free silica is 120Å and it is available in 3 or 5 µm particle size. The silanol groups are fully end-capped, the columns can be used in a broad pH range (2-11).
The Brisa LC2 columns give perfect performance for routine separation HPLC tasks and for LC-MS measurements. Each column arrives with a serial number, a unique test chromatogram and fast delivery deadlines.
The net prices of Teknokroma Brisa LC2 C18 columns:
Brisa LC2 analytical HPLC columns, C18, 120Å
Code
Column dimensions
Pore size
Price* (EUR)
TR-010481
25 x 0,46 cm
5 µm
245
TR-010480
15 x 0,46 cm
5 µm
207
TR-010498
15 x 0,46 cm
3 µm
234
TR-010499
10 x 0,46 cm
3 µm
218
Brisa LC2 LC-MS columns, C18, 120Å
Code
Column dimensions
Pore size
Price* (EUR)
TR-010496
5 x 0,21 cm
3 µm
205
TR-010497
10 x 0,21 cm
3 µm
228
*We reserve the right to change prices! For detailed and actual price list please contact our office!