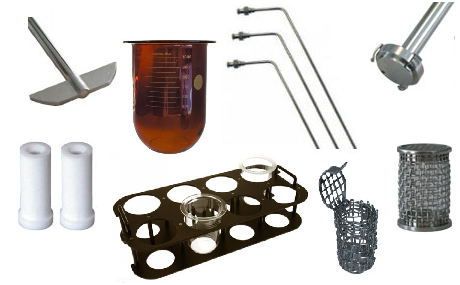 The Quality Lab Accessories (QLA) has become well-known as a high-quality manufacturer of accessories and consumables necessary for dissolution testing. Beside the tools compatible with the dissolution instruments made by Hanson Research, different accessories for dissolution instruments of other manufacturers are also available:
cannula filters with different pore sizes: 1, 2, 4, 5, 10, 20, 35, 45, 70, 90 μm
sampling probes with height setting
intrinsic dissolution apparatus
clear dissolution vessels
amber dissolution vessels
plastic dissolution vessels
"Peak" dissolution vessels
easy to put on vessel covers
low-evaporation vessel covers
6 and 8 positions vessel stands
basket shafts
10, 20, 40 Mesh baskets (apparatus 1)
Felodipine baskets
Suppository Baskets
12 position basket stand
stainless steel (SS) paddles
teflon paddles
"Rotating cylinder" (apparatus 6)
stand for paddles and basket shafts
"Transdermal sandwich" (USP Apparatus. 5 – Paddle over Disk)
sinkers for capsules and for floating tablets
Japanese basket sinker
basket handling tool for touchless gentle mounting/demounting of baskets
The detailed downloadable catalog provides you with all the necessary support to select the appropriate accessories and consumables for your instrument and our staff is happy to clarify all the arising issues.