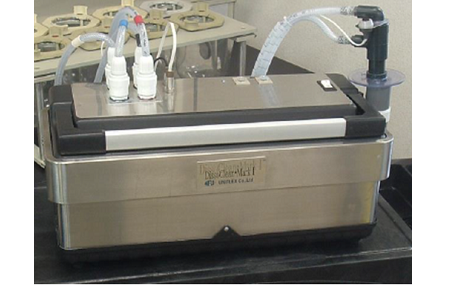 Dissolution vessel clean-up is a tedious and time-consuming process that needs much attention, however, it is an extremely important step in the testing process of pharmaceuticals in order to eliminate cross-contamination. The DissoClean Mark1 instrument from the Japanese Uniflex avoids the possibility of vessel centering errors and accidental vessel breakage when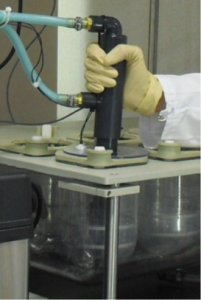 removing and reinserting them from and into the dissolution tester. The cleaning procedure in the case of 6 vessels from an average dissolution test takes only 4 minutes.
DissoClean Mark1 is suitable for cleaning 1 liter vessels in any dissolution tester, regardless of manufacturer or type. Due to its small size, it can be easily moved, and can be used on a laboratory table or in a pushcart to serve multiple dissolution testers. The nozzle is connected to the instrument with a 2-meter-long flexible tube. The vessel cover on the nozzle secures the proper fit on the dissolution vessel and the splash of the washing liquid. At the end of the dissolution test, the dissolution medium may even contain pieces of tablets or capsules, but the instrument is also suitable for removing these residues. If necessary, this residual dissolution medium can be collected separately from the subsequent washing liquid by a simple tank change, thus reducing the amount of hazardous waste. The high-performance pump can be operated with the switch on the nozzle. During washing, the washing liquid is sprayed under high pressure onto the inner vessel walls. When the spraying is completed, the drainage of the washing liquid will start automatically. The spraying and drainage time can be set. The 20 liter waste tank is equipped with an electronic level sensor to prevent overflow. Multiple solvent wash can be accomplished by simply replacing the washing liquid tank. Completed with the optional paddle washer unit, the DissoClean Mark1 is capable of cleaning the vessels and stirring elements contaminated during the dissolution test without removing them.
Validated washing procedures with the Uniflex DissoClean Mark1 dishwasher can also be set up to clean dissolution test vessels, in this way avoiding cross-contamination and reducing the potential for human error.