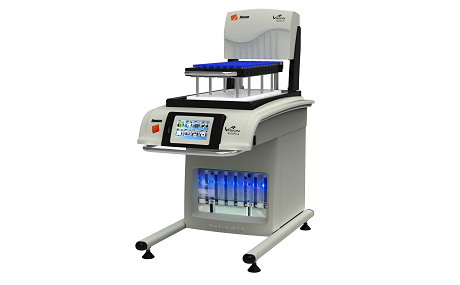 With the G2 AutoPlus Dissoscan and Maximizer programmable syringe pump samplers a wide range of dissolution tasks can be automated. With the 5-ml syringes moved by a precision stepper motor, samples of volumes defined by the user are taken out, then they are transferred into the AutoFill or other alternative sample collector. In the case of a system supplemeted with an on-line spectrophotometer the samples moved into the photometer assembled with flow cells, from where they are trasferred – depending on the tubing – into the sample collector or back into the dissolution vessels. The AutoPlus Dissoscan and Maximizer samplers can control the system consisting of the Hanson Vision G2 dissolution baths and AutoFill sample collector. The instruments have colored touch screen, icon-driven internal software, internal memory capable of storing up to 100 protocols, the possibility of saving onto USB-stick and network printing. They are suitable for implementing the dissolution tests corresponding to the USP, EP and JP, as well as the ASTM requirements. Furthermore, they meet the 21 CFR Part 11 compliance, as well.
The Dissoscan is a 2-way fluid syringe pump sampler, which is suitable for sampling from one bath.
The Maximizer is a 4-way fluid syringe pump sampler, which provides multiple-bath sampling (max. 3 baths), dissolution media replace and dilution, as well. In addition, the rinsing of tubes with washing medium can be carried out automatically after the dissolution test.
The AutoPlus samplers with AutoFill sample collectors transmit the samples collected during the dissolution tests into the HPLC vessels or test tubes of 16×100 mm. The AutoFill can be placed on top of the DissoScan or Maximizer in order to achieve better use of space and lower dead volumes. The removable racks have magnetic identification, so the system is capable of identifying the sample holder to be used, and it does not allow the start of the protocol to run, if it detects that the specified rack parameters do not match the given ones.