Szilvia Berkó, PharmD, PhD., from the Institute of Pharmaceutical Technology and Regulatory Affairs in Szeged, Hungary is going to be the next lecturer of the webinar series sponsored by the Teledyne Hanson on Thursday, October 20, 2022. The attendance at the "Comparative Study of Different Membranes Modeling Skin Penetration (Cellulose, Strat M®, Human Epidermis)​​" webinar and the Q&A session is free but registration is needed: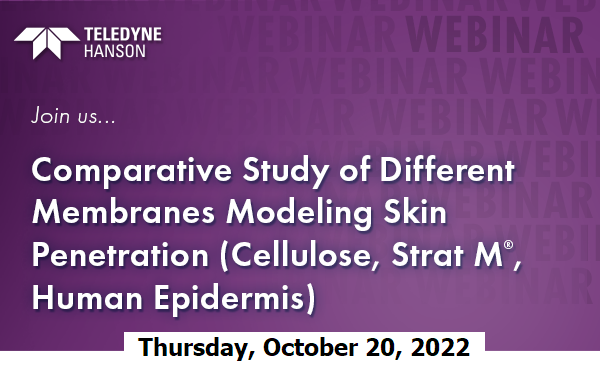 Europe

14:00 / 2 PM CEST
7:00 AM in CDT (US and Canada)

The Americas

20:00 / 8 PM CEST
1:00 PM in CDT (US and Canada)

Asia/PacRim

3:00 / 3:00 AM CEST, 21 October
8:00 PM in CDT (US and Canada)

REGISTER
REGISTER
REGISTER
The human skin is marked as a standard by regulatory agencies in the permeation study of dermal formulations. Artificial membranes can substitute human skin to some extent. Academicians and pharmaceutical corporations are focusing their efforts on developing standardized protocols and safe, reliable options to substitute human skin for carrying out permeability studies. This webinar demonstrates the applicability of different membranes using the Franz diffusion cell method and presents a supporting technique for a more relevant evaluation of the results.
Highlights include:
A description of the requirements for the experimental conditions of the Franz diffusion cell method
The difference between synthetic and biological membranes and their application possibilities
Some results and conclusions of the experimental tests carried out using the Franz diffusion cell method with different membranes.