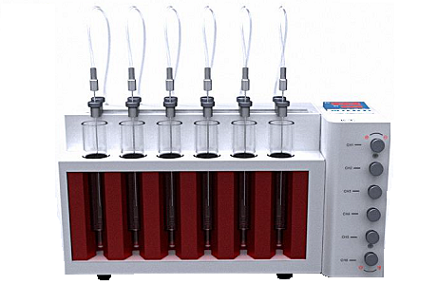 With the MultiVap concentrators of LabTech, based in Italy, it is possible to evaporate solutions to solid state or a fixed end-point volume without the use of vacuum and high temperature. During the operation, these instruments accelerate the evaporation of the solvent by decreasing its partial vapor pressure just above the surface of the liquid. The MultiVap concentrators use blowdown technique to remove the gas layer that is saturated with the solvent vapor. Because the inert gas stream seizes the solvent molecules that pass into the gas phase, they cannot return into the liquid phase. The removed particles may be replaced by newer and newer solvent molecules, thus increasing the rate of evaporation. The blowdown technique is excellent for evaporating smaller sample volumes between 2 and 200 ml. With higher volumes, there is a risk of loss of volatile components due to the longer concentration time. In LabTech sample evaporators, the evaporators are housed in a temperature-controlled water bath or aluminum block, even in this way increasing the rate of concentration.
MultiVap 6 – 6-position manual sample concentrator
The compact sample concentrator, measuring only 12 x 30 x 17 cm, supports 6 samples of 40 ml at a time. The heating of the samples is controlled by an aluminum block from room temperature up to 120 °C. The desired temperature can be set with the buttons of the control unit. The gas flow used for evaporation can be started, closed and controlled separately in each position. The nozzles can be kept at a constant distance from the decreasing liquid surface, as not only their position to the tube wall, but also their height can be adjusted individually by hand. Thus, there is no need to continuously increase the gas flow during evaporation, which can mean significant savings, especially in laboratories where the exhaust gas is supplied from a gas cylinder. The heater is equipped with windows to monitor the evaporation of the samples. Thus, even without stopping the process and moving the vessels, it is easy to determine whether the amount of solution in the evaporator tubes has been reduced to the desired volume or whether the required evaporation requires a change in the position of the nozzles and an increase/decrease in the gas flow. The MultiVap 6 is suitable for evaporation in 40 ml, 16 x 100 mm, 13 x 100 mm or other sized tubes and in HPLC vials. The use of an optional glass vessel with concentration zone marked with a final volume indication ensures the reconstitution of the samples to a small volume.
Specifications:
 temperature range: room temperature – 120 °C
required gas pressure: 1 – 2 bar
dimensions: 12 x 30 x 17 cm (W x W x H), 5 kg