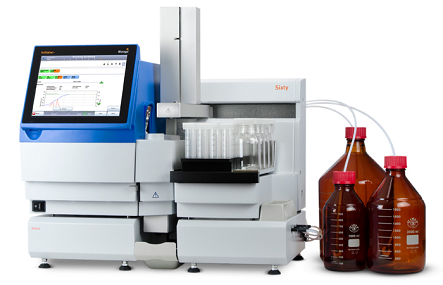 The Swedish Biotage provides options from manual instruments, through semi-automated ones, to fully automated systems for laboratories which synthesize peptides. In addition to the systems that carry out conventional reactions at room temperature, also systems that synthesize peptides with microwaves are available.
Initiator+ Alstra
The Initiator+ Alstra is an automatic instrument carrying out microwave-assisted peptide synthesis reactions. Small-amount peptide syntheses under atmospheric pressure at a temperature between 40 and 100°C can be done with one-step or multi-step reactions. All the steps of the reactions can be automated. All the monomers, reagents and solvents necessary for the reactions are poured into the corresponding vials and reagent vessels, then, with the start of the chosen method, the instrument automatically performs all the steps that lead to the desires peptide sequence. The liquid-handling without valves is done by a one-arm liquid-handling robot and three digital syringe pumps. In order to obtain more efficient reactions, the reaction mixture can be stirred continuously with the built-in oscillating mixer during the reaction. The instrument can be used in semi-automatic mode, as well. In this case the reagents must be poured into the reaction vessels manually. The synthesis of the peptides can be carried out in an amount of 5 µmol-2 mmol.
The pre-installed software of the built-in computer with a 10.4" diameter touch-screen contains the most commonly used methods and sequences of peptide syntheses. However, at the same time, with an easy-to-use wizard that leads the user step-by-step, own methods and sequences can be defined. Based on the selected methods, the amount of the reagents necessary for the peptide synthesis is calculated by the software automatically. For the reactions requiring inert atmosphere, the Alstra has a pre-installed nitrogen input, which leads to the reaction vessel. Optionally, it is also possible the protection of the reagents with nitrogen atmosphere.
For Peptide Synthesis related applications, tips and tricks please visit the The Peptide Synthesis Blog site!
consumables, reactions vessels, vials – available in a wide range
optional inert gas splitter for reagents vessels