Pharmaceutical testing
Hanson dissolution testers
The Vision G2 Elite8 and Classic6 dissolution testers, designed by the American Hanson Research company founded in 1951, gain respect among the laboratory workers of the pharmaceutical development and quality control not only with their reliability, preciseness and easy-to handle characteristics but also with their sophisticated, aesthetic appearance, as well. In accordance with the requirements of today's digital era, the Elite8 and Classic6 have color touch screen, icon-driven internal software, internal memory capable of storing up to 100 protocols, saving onto USB stick and network printing possibilities. The instruments are suitable for carrying out dissolution tests in accordance with the USP, EP and JP, as well as the ASTM requirements, and meet the 21 CFR Part 11 compliance, as well. They are also suitable for basket (Apparatus 1), paddle (Apparatus 2), low-volume paddle, "Ointment cell ", "Paddle over disk " (Apparatus 5) and "Rotating cylinder" (Apparatus 6) dissolution tests.
Elite8

The Vision G2 Elite8 instrument is suitable for placing 8 dissolution vessels, from which the sampling is possible both manually and automatically. In its standard configuration, it can be used with 1-liter vessels, but it may be adapted to the use of 2-liter or 150-ml vessels. In the case of automatic sampling with simultaneous tablet dropping, with the sample probes immersing in the medium only at the time of sampling and with temperature sensors per vessel (6 or 8 positions) will the

examination of the dissolution be fully documented. To achieve completely metal-free fluid paths, the use of plastic sample probes is possible. With its well-thought modular expansion possibilities it can be transformed into online spectrophotometric and fraction collecting systems, as well. With the help of the evaporation free covers, there is no measurable dissolution medium evaporation in the case of prolonged tests.
Specifications:
stirring speed: 25 – 250 rpm ±1 rpm (display resolution 0.1 rpm)
temperature: 25 – 55.0°C ± 0.1 °C (display resolution 0.01 °C)
heater: vibrational free heater circulator
sampling: with manual or automatic sampler
sample filtration: in-line double filtration with probe tip filters and syringe filters
programming: with use of color touch screen
memory: storage of 100 methods
21 CFR Part 11 compatibility: yes
archiving: methods, results, events can be saved/copied to USB pendrive
fulfills the EP/USP/JP and the ASTM requirements
printing: small size normal paper printer or network printer
dimensions: 88x68x59 cm (H x W x D), weight filled with water: 91 kg
Classic6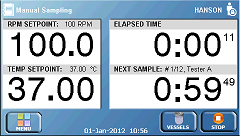 The Vision G2 Classic6 instrument is for 6 dissolution vessels, from which the sampling is possible both manually and automatically depending on the configuration. In its standard configuration it can be used with 1-liter vessels, but it can be adapted to vessels of 150 ml. The automatic sampling is carried out through a cannula with fixed, manually adjustable depth, while the sample filtering is done with the cartridge filter placed in the sample probes. It can also be coverted into online spectrophotometer and fraction collection system with its modular expansion possibilities. 
Specifications:
stirring speed: 25 – 250 rpm ±1 rpm (display resolution 0.1 rpm)
tempearture: 25 – 55.0°C ± 0.1 °C (display resolution 0.01 °C)
heater: vibration free heater circulator
sampling: with manual or automatic sampler
sample filtration: in-line double filtration with probe tip filters or cartridge filters mounted in the cover and with syringe filters
programming: with use of color touch screen
memory: storage of 100 methods
21 CFR Part 11 compatibility: yes
archiving: methods, results, events can be saved/copied to USB pendrive
fulfills the EP/USP/JP and the ASTM requirements
printing: small size normal paper printer or network printer
dimensions: 68x40x59 cm (H x W x D), weight filled with water 49 kg
6 or 8 temperature sensor for individual temperature measurement in the vessels (not useable with Classic6 instrument)
baskets (Apparatus 1)
8 position filter holder mounted on the stand of sample collector for in-line sample filtration or for manual sampling via immersed sampling probes; accomodates luer type 5 – 0.45 μm syringe filters
12 position basket stand
16 position stand for paddles and basket shafts
stainless steel and PTFE paddle
sinker and stainless steel wire for capsules
Japanese type capsule sinker
Easi-Lock fold-away vessel cover
flat, easy to put on vessel cover for Elite8 dissolution tester bath
wash box to clean sampling probes in place (2 pcs/set) for Elite8
1 liter amber Easi-Lock vessel for testing light sensitive substances
6 or 8 position vessel stand
small volume kit (SS mini paddle, round bottom 150 ml vessel, cover, vessel adapter, manual sampler of settable immersion height)
accessory kit for automated sampling from small volume vessels (factory option)
150 ml round bottom clear and amber glass vessel
transdermal sandwich USP App. 5. Paddle over Disk
ointment cell complete, 15 mm diameter, usable with 150 ml USP vessel